Main photo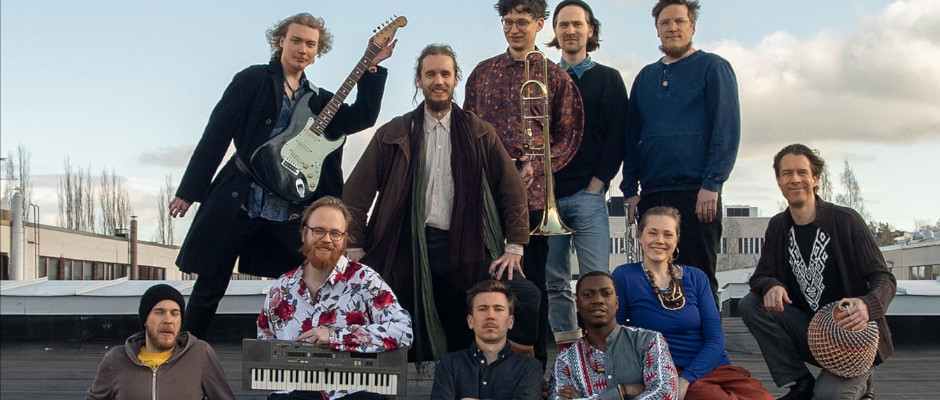 Introduction
Frankosun and the Family is an association of African and Finnish musicians. Working in the spirit of fraternity, the music of the band combines many different styles of music. These include rumba, afrobeat, salsa, jazz and reggae.
Francosun is also called Franck Koumolou, a native of Benin, the birthplace of voodoo culture. Franck Koumolou was born into the Nago family, which practices rhythms with voodoo masks from the Egoun goun, Zangbeto, Guèlède and Tchango cultures. Franck Koumolou composes the music himself and often gets inspiration for it in a dream.
He inaugurated these traditions and studied various musical styles such as afrobeat, rumba, jazz, salsa, etc., thanks to which he has developed a diverse singing voice for himself. Frankosun started playing Djembe drums already in elementary school and while already there he asked to be allowed to play at school festivals and parties. Frankosun is also a skilled afro and hip hop dancer. He has won several dance competitions in Benin.
The band has performed at the Fest Africa festival in Tampere on January 15, 2016. In addition to this, the band has performance experience from the Helsinki Lasipalatsi, Kirkkonummi and Mariehamn at the local art night at Kulturnatten, among others.
Franck Koumolou (Benin) - vocals and percussions
Viviane Bossina (Congo) - vocals
Mikael Siljanen - bass
Toni Kähkönen - guitar
Preacher Saka (Malawi) - drums
Issiaka Dembele (Burkina-Faso) - percussions
Georges Agbazahou (Benin) - percussions
Ville Häyrynen - guitar
Technical information
The recommended length for performance is about 1-2 hours.