Main photo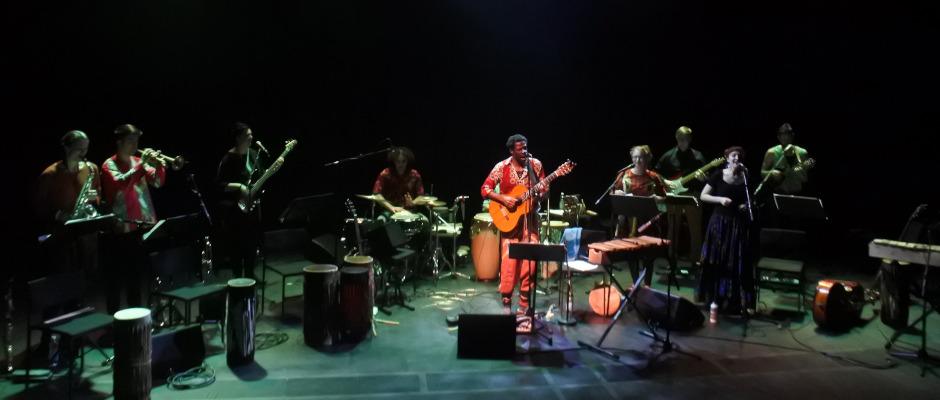 Photographer
Jorma Airola
Esittely
A New beginning of a Tanzanian musician, dancer and composer Kasheshi Makena who brings together a unique combination of musicians performing new music inspired by his homeland musical inheritance. This is a dance music that the body will always want to move. It is an Afro-Funk, Afrobeat feel music with blues lyrical. Based in Finland, band was founded in Arhus, Denmark 2015.
Here music is used as an artifact of strengthening, understanding the difference we have and reinforcing unity, love and sharing life experience through music.
As a band leader Makena uses collaborative techniques to arrange the pieces with the ensemble.
It is an 8 piece band, originally from Tanzania, Finland, England and Ireland. 
"The similarity that we have is the aesthetics and uniqueness of this band. We are all connected through music".
"We share our similarities and differences and that is the thing that makes us sounds special, unique and groovy" 
Bhutula is the word delivered from Sumbwa language which means a fire in a forest that it can affects many people.
Arja Paju (Finland) - E/bass,vocals
Carolyn Goodwin (Ireland) – sax, vocals
Ilkka Arola (Finland) – trumpet, flughorn, vocals
Kasheshi Makena (Tanzania) – vocals electro a/gtr, bamboo flute, marimba, trombone
Tero Bombero (Finland) – Percussions, vocals
Topi Korhonen (Finland) – electro a/gtr, vocals, trumpet, mbira, mandolin
Timo Kiprianoff (Finland) – E/guitar
Stefano Ancora (United Kingdom) – Ethnic kit
Technical information
From 45 min to 1 hr concert, amplification needed. Technical rider.