Main photo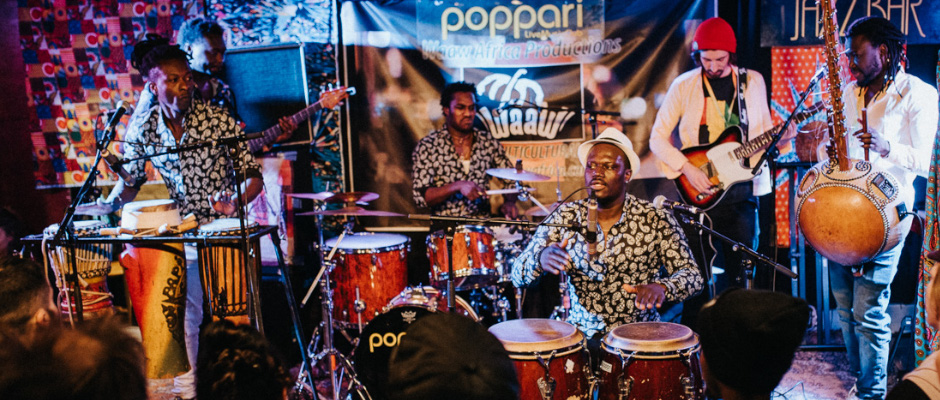 Photographer
Leo Brinkmann
Introduction
Mama Africa Junior is a group of Senegalese professional musicians and dancers active in Finland, whose rhythmic music strikes Finnish hearts and hips. The group's name suggests that its founding members, as young juniors, left the sandy streets of Dakar to spread the good news of African music to the cold North. Later, the band has been influenced by their music from other parts of the world than Finland.
These six men deliver a jubilant blast of hot Afro-Caribbean dance and rhythms. The music consists of the following instruments: kora (traditional West African string instrument), bass, guitar, drum set, conga drums, sabar drums and vocals.
Along with the music, we also offer an eye-catching West African sabar-dance show. Sabar is a traditional Senegalese dance based on breathtakingly demanding jumps and basic steps that the audience can join.
The group has previously appeared in e.g. Helsinki Faces Festival, Jyväskylä Waaw Africa Festival, Tampere Fest in Africa and Trondheim World Music Festival.
Often the preferred option has been an event that includes drum workshops and followed by a concert.
Yerim Gueye (SEN) vocals and percussion
Dupain Cissokho (SEN) - vocals and percussion
Mamadou Ndoye (SEN) - backing vocals and percussion
Pothio Ndiaye (SEN) - bass
Cheikh Cissokho (SEN) - vocals, kora
Gustav Store (FIN/SEN) - guitar
Theodor Sanneman (FIN) - guitar
Technical information
The duration of the performance depends on the occasion, from 15min to 90 min. The group can also perform acoustically. Mama Africa junior will be happy to give you more information on the content of their gigs and courses. The technical requirements of the band are flexible.