Main photo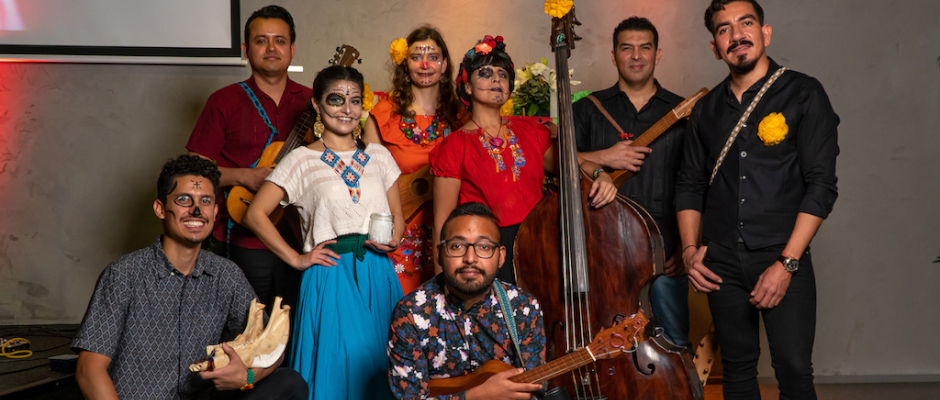 Photographer
César Carvajal / MexMedia
Introduction
Jaranas del Norte is an ensemble based in Helsinki that promotes the musical, lyrical and dance expressions of Son Jarocho tradition. The ensemble performs the traditional Son Jarocho repertoire with original arrangements, infused with the band's backgrounds and their experiences in Finland. In addition, the lyric potentials of Finnish language are explored and adapted to the rhythm and melodies.
Son Jarocho is a folk musical style of Mexican Son, originated in the Sotavento region near the Gulf of Mexico. It represents a fusion of Mexican indigenous, Spanish, and African musical elements and it is traditionally performed during fandango celebrations: a participative gathering that includes improvised music, "zapateado" dance, and "décima" poetry singing.
Since its creation in 2019, this pioneer project has offered concerts and workshops for institutions such as the National Museum of Finland, the Embassy of Mexico in Finland, the Institute of Mexicans Abroad, the World Music School, Chapple, Askelten Palo ry, and Kulttuurikeskus Ninho ry.
Alan Guerra (Mexico) - Jarana and guitar
Balam Orozco (Mexico/Finland) - Requinto and voice
Daniela Pascual (Ecuador/Spain) - Jarana and voice
Eduardo Tejedor (Mexico) - Jarana, percussion and voice
Eva Anastasi (Finland/Greece) - Jarana and voice
Grisell Macdonel-Kvist (Mexico/Finland) - Leona bass, double bass and voice
Ludvik Moreno (Mexico) - Jarana and voice
Paola Nieto (Mexico) - "Zapateado" tap dance, voice and jarana
Rodrigo Tripp (Mexico) - Jarana and voice
Techical information
The length of the performance and the technical needs should be discussed case-by-case. Possibility of interactive performances. Suited for all ages.